In any game where you can advance a stat, it often involves grinding.  In No Man's Sky, this is what I've termed "The Run To 48" (ignoring the fact that the max slots on a Multitool is 24).  Your suit inventory and your ship inventory spaces max out at 48.  For the suit, this is strictly a grind involving getting money and finding drop pods (or the odd other place to get a suit slot).  For ships … it eventually becomes the practice of finding a crashed one that has one more slot and leaving your old ship behind.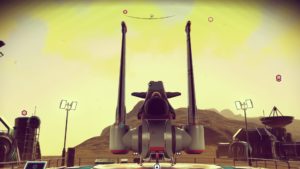 But once you have that 48, there's a bit more to that game.  It's the game of looks.
My first 48 didn't last long.  I didn't like the look at all.  I mean, I might have tolerated it a little longer if the wings had actually stuck out to the side, but the verticality of the design was too weird.  And while the chrome was nice, the orange highlights weren't to my tastes.  And the basic body style just wasn't "me".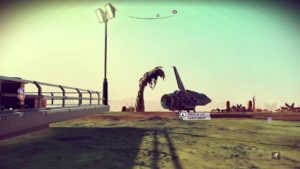 After several others (including many that were just stripped for parts), I ended up with something I actually bothered to name.  Blue Sled was cool.  It was blue – one of my favorite colors.  It had a good view out the bubble cockpit window and even had a droid-looking thing on one of the sidepods.
But it had sidepods.  Not wings.  And a big fin on the back that looked poorly sized for the small pods.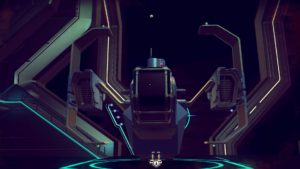 I'm quite easily distracted and drawn to something that I probably should have just skipped without question.  This explains why I ended up with Blue Hotbus.  It was huge.  It had wings … curvy wings!  And engines.
And an annoying tendency to make me take damage when I got out of the ship even when landing on the slightest rise.  And the wings?  Very short.
And she looked like a bus.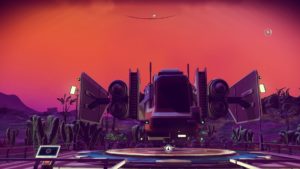 Next came the Orange Beast.  Mind you, in the Beast's defense, it was mostly tan, and the orange highlights were not horribly gaudy.  She was big: not mean looking, but had the bearing of a ship that would screw you up if you messed with it.  It had a good side and upward views out of the cockpit.
And apparently I like RVs more than I like buses.
But I was always looking at the other … sexier ships.  The ones that looked like fighters (though in the game it really doesn't matter … well, not for the most part).  Which is too bad, because two ships later, I still kind of miss Orange Beast.  There was a body style I passed up twice because it was mostly orange and the wings were a little stubby …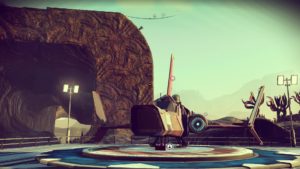 So I overcompensated and went with what my wife called Red Dust Buster.  Red is infinitely more tolerable than orange, but it's not a "house favorite".  Thing is, even with the wings a bit bigger and gaudier than I would have liked, I was pretty much settled on her.  I left the planet I found her on, even ignoring a transmission tower near the trader I stopped at before I left.  But then … I'm a sucker for fate: As I was getting situated on the new planet, getting my bearings and figuring out if there was any reason to spend time on it …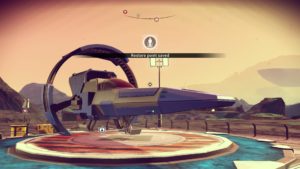 I wasn't even looking. And any other color I might have just passed it up. I'm not even a huge fan of the body style (my wife said "It looks like a Dyson Fan!" so it is called Blue Dyson Fan).  As you can see from the video above, I went as far as to risk losing my old ship to try out the view from the canopy in this one.  And in the light on this planet, it's looking distinctly purple.  And not really even a good shade of purple.
But I found it by accident … which isn't an easy thing.  And it does kind of look cool.  And it was a 48.  And the view was nice.
I don't intend to look for a replacement (I might buy one if I ever have the money and find the "perfect" 48).  But BDF is now my ride.