This was an attempt to do a video review while playing the game.  I was rather unprepared.  The TL;DW? "Get this game and play it.  It's fun!"
If I do another one, I'll be putting a bit more planning and forethought into what I'm going to be saying while I play.  And as time goes on, I'll probably be adding more text to this review to fill in the holes that I left in the video review.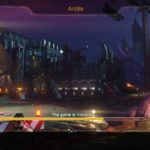 One thing I mentioned in the video review was a problem I ran into. I started playing this game very shortly after it finished downloading and "installing" onto my PS4. However, it became apparent after a level or two that it wasn't completely installed …
I waited a bit and it finally moved on to the next level. However, after I finished that one and moved to the next, I got the loading screen again. At that point, I decided to put my PS4 into rest mode and call it a night.
Everything worked smoothly the next day, so my advice is to give it a couple of hours after the download finishes before you start playing.
Here are some additional screenshots from the game: